Top 10 most expensive luxury homes sold in 2019
January 02, 2020 - United States
Real estate consulting firm Miller Samuel Inc. has compiled a list of the most expensive residential real estate deals of 2019 :
10. $71 Million for Trousdale Mansion, Beverly Hills, California
Uber co-founder Garrett Camp paid $71 million in June for a newly built mansion in the Trousdale Estates area of Beverly Hills.
9. $77.1 Million for Upper East Side Townhome, New York
John Griffin, founder of Blue Ridge Capital, bought an almost 30,000-sq-ft townhouse on East 67th Street in Manhattan in June.
8. $81 Million for Three Condo Units at 212 Fifth Ave., New York
Amazon founder Jeff Bezos purchased three condos at 212 Fifth Avenue in May this year for $81 million. He then combined them into a single 17,000-square-foot apartment with 12 bedrooms.
7. $92 Million for Penthouse at 220 Central Park South, New York
Two properties in the building at 220 Central Park South have made it to the top 10 most expensive luxury homes sold in 2019.
According to the New York Post, the condo building at 220 Central Park South registered over a billion-dollar worth of sales.
The 9,817-square-foot penthouse with four bedrooms and six bathrooms was sold to hedge-fund billionaire Dan Och for a staggering $92.7 million.
6. $94 Million for Bel Air Mansion, Los Angeles
Once listed for $250 million, this Los Angeles mansion known as "Billionaire" sold at a 62% discount in October, according to the Wall Street Journal.
The four-story, 38,000-square-foot home has 12 bedrooms and 21 bathrooms, plus three kitchens, five bars, a spa, gym, pool, theater, auto gallery, and bowling alley.
5. $99.13 Million for Palm Beach Mansion, Palm Beach, Florida
Ken Griffin, Citadel's chief executive, bought a beachfront property at 60 Blossom Way last year, adjacent to his existing Palm Beach estate.
The 18,452-square-foot home, on almost 3.6 acres, was built in 2000 and last sold in 2017 for $77.1 million.
4. $100 Million for Paradise Cove Beachside Home, Malibu, California
The oceanfront property at 27600 Pacific Coast Highway is 13,693 square feet, sits on 3 acres, and has beach access.
It features sixbedrooms and seven and a half bathrooms as well as a pool, tennis court, theater, gym, and two guesthouses.
3. $110.3 Million for Oceanfront Palm Beach Mansion, Palm Beach, Florida
La Follia, an oceanfront Palm Beach mansion, was sold in June for a staggering $110.3 million. The 37,516-square-foot property is located at 1295 S. Ocean Blvd. in Palm Beach.
It was originally listed for $135 million in 2018.
2. $119.8 Million for Holmby Hills Mansion, Los Angeles
The Manor is a 56,000-sq-ft mansion that was once owned by the daughter of Formula One billionaire Bernie Ecclestone.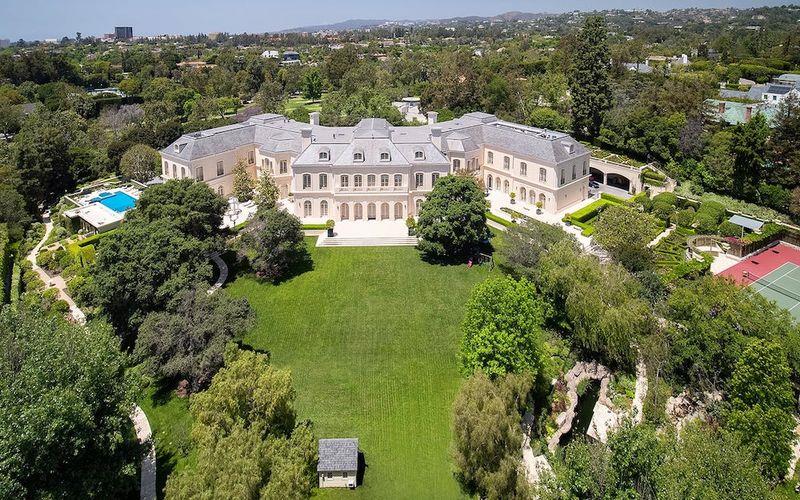 Located in Holmby Hills, the mansion has 14 bedrooms and 24 bathrooms. According to Jade Mills, it was originally listed for $160 million, but sold for $119.8 million.
1. $240 Million for Penthouse at 220 Central Park South, New York
The 24,000-sq-ft. penthouse at 220 Central Park South was sold to Citadel CEO Ken Griffin for $240 million in January.
The penthouse spans the 50th through 53rd floor of the residential tower in Manhattan.
Via Miller Samuel - fortune.com - valuewalk.com
---
Tags:
blog
,
most expensive
,
Top 10
,
most expensive properties