Top 10 Most Featured Turks and Caicos Islands Homes listed on PropGOLuxury.com
March 23, 2020 - Turks and Caicos Islands
They include a rare three bedroom Tranquility Villa located on the secluded Northwestern tip of Providenciales, a kind luxury Villa comes with over 6000 sq. ft offers ocean and island views from all angles of the villa, and a 3-Bedroom Beachfront Villa boasting 90-feet of pristine beach frontage.

Amanyara Villa 15
For Sale, 6,950,000 USD
Villa 15 at Amanyara is a rare three bedroom Tranquility Villa at the highly exclusive Amanyara Resort, located on the secluded Northwestern tip of Providenciales, bordering a national park. Offering complete privacy within the resort grounds, three individual bedroom pavilions overlook the oversized volcanic rock infinity-edge pool, with an ornamental pond providing reflections between two of the bedroom pavilions.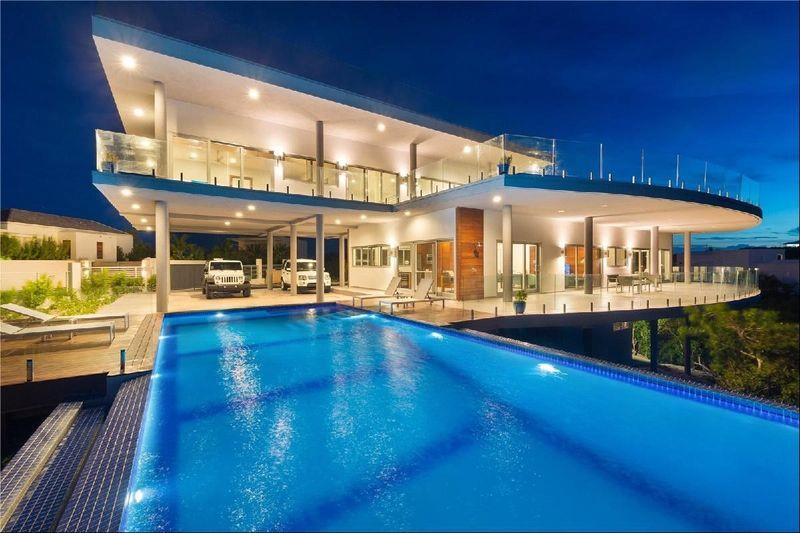 Villa Skyline, Providenciales
For Sale, 4,900,000 USD
This one of a kind luxury Villa comes with over 6000 sq. ft of outside entertaining areas set over 4 floors and offers ocean and island views from all angles of the villa. The interior of the Villa boosts 4000 sq. ft with 2 large bedrooms all with en suite bathrooms located on the main floor and then located on the 3rd floor we have the master suite, which includes a private owners lounge and gym area together with a master bedroom, large closet & vanity area. The main living area on the 2nd floor is an open plan kitchen with dining room concept with a living room off the one side and a large entrance foyer.
Oceanside Tower
For Sale, 3,500,000 USD
Oceanside Tower is a beautifully and recently completed Caribbean style villa offering barefoot elegance in a stunning setting. This welcoming and gated 4-bedroom home is located in the quiet and upscale residential peninsula of Silly Creek on the south-western shore of Providenciales, with easy water access and picturesque sunset-facing views.
Ambergis & Cay Oceanfront Lots
This oceanfront lot is 2.12 Acers of beach front land located on Columbus Beach and enjoys beautiful sunset over the Caicos Banks. The lot is with close proximately to the Resort and Spa as well Calico Jacks Pavillia and tennis facility.
Sailrock Resort
For Sale, 1,945,000 USD
Sailrock Resort offers turnkey and hassle-free ownership.
This 3-Bedroom Beachfront Villa boasting 90-feet of pristine beach frontage offers unparalleled access to Resort activities, luxurious amenities and authentic dining experiences. Thoughtfully situated on an elevated sandy bluff just above pristine Long Beach, this villa offers stunning panoramic views of the cobalt blue Atlantic Ocean and is designed to seamlessly integrate exceptionally designed interior spaces with the outdoor terraces and gardens. 
VILLA AVENTINE
For Sale, 1,150,000 USD
Enjoy panoramic water views from this exceptionally designed waterfront Villa within the upscale neighborhood of Chalk Sound. This gem of a home sits well on an elevated lot with 120 ft. water frontage. Comprising of 4 bedrooms 4 full baths, the interior showcases an open floor plan, high vaulted ceilings and large sliding doors providing outstanding views and natural light from its prime location!
Point House
For Sale, 15,000,000 USD
Point House was designed by world renowned architect Cheong Yew Kuan and is one of twelve private estates on the island ideally located at the far south west side of the island; adjacent to the nature reserve and unobstructed views of the sweeping sandy beach.
Castaway Villa
For Sale, 4,100,000 USD
Located on the tranquil enclave of the North Shore of Providenciales, Castaway Villa is a dream to experience and the epitome of a luxury Island lifestyle.The perfect home for a family with lots of outdoor water activities to include swimming, kayaking, snorkeling, beach walking and star gazing.
Tip Of The Tail Villa
For Sale, 5,900,000 USD
Tip of the Tail is set on the highly unique and private South Shore Peninsula at the end of Turtle Tail Drive. This incomparable one acre parcel has 436 feet of water frontage with iron shore fronting the villa and to the east a private beach cove with palapas for shade. In the neighborhood of other luxury homes and adjacent to South Bank Marina, Tip of the Tail was designed to maximize the guest experience.
Bajacu
For Sale, 18,800,000 USD
Bajacu is a Caribbean masterwork, designed by renowned, Architectural Digets Top 100 Architect, Marco Aldaco, who is known for his techincal mastery of scale, color and materials. Bajacu ("rising sun") in the language of Caribbean natives) sits proudly above the beautiful island of Providenciales, Turks & Caicos.
Other Properties in Turks And Caicos Islands on PropGOLuxury.com

---
Tags:
Top 10
,
Homes
,
Most Featured
,
Turks and Caicos Islands